To not miss any African news, subscribe to the newsletter of the World Africa from this link. Every Saturday at 6 a.m., find a week of news and debates covered by the editorial staff of the World Africa.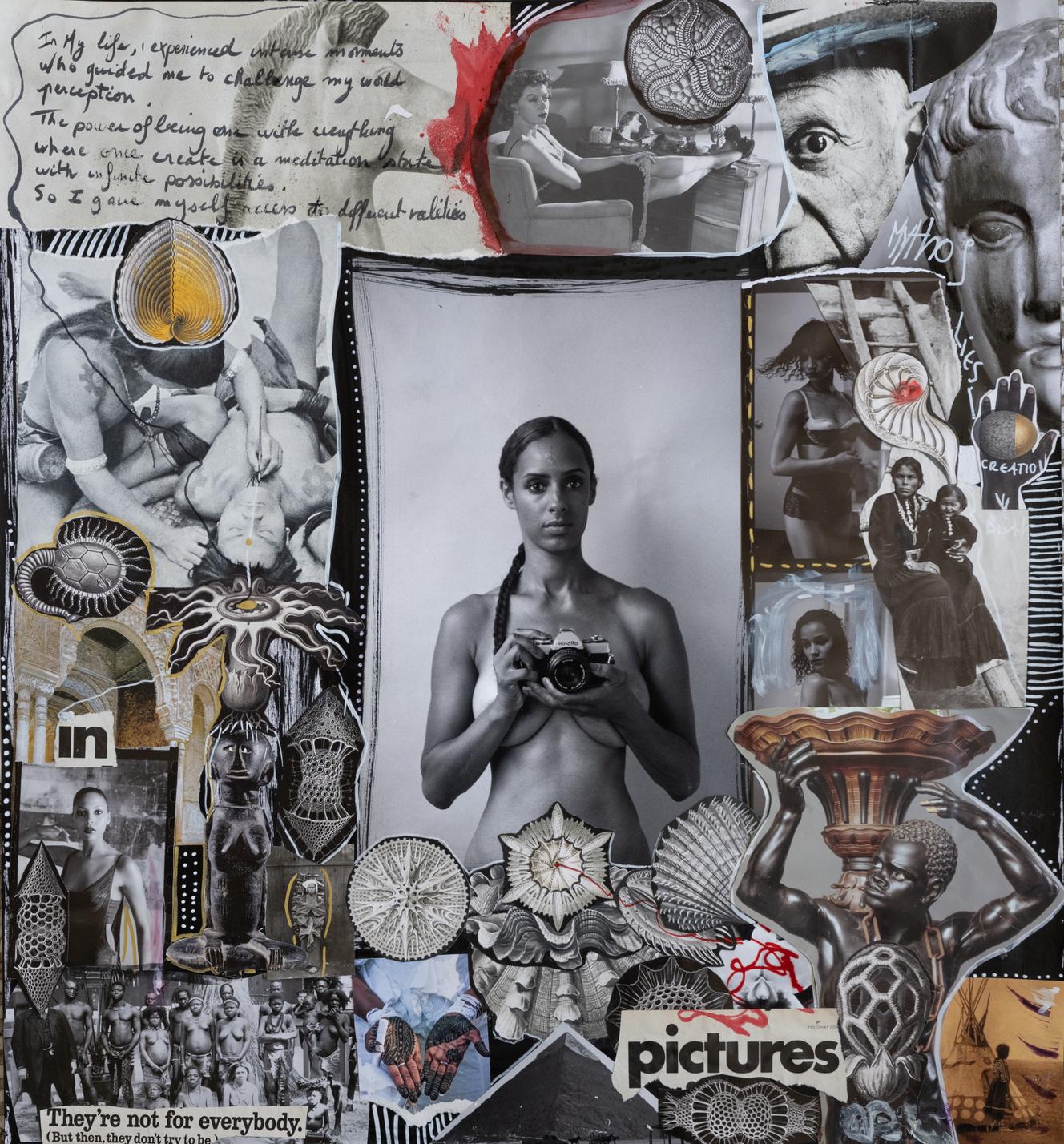 A storefront without a door in a busy artery of Tunis. Behind the porthole, a digital work is displayed on a screen. Here is Mono, the very first gallery in Africa entirely devoted to non-fungible tokens (NFT), these digital property certificates registered in the blockchain and backed by cryptocurrencies which, for a year and a half, have hysterized the art market. "Passersby are hypnotized, they wonder what this UFO is in the middle of the medina"smiles Kenza Zouari, co-founder of the space with Shiran Ben Abderrazak.
A year ago, the general public was unaware of this technology known only to fans of digital art. Everything changed on March 11, 2021 when a work by Beeple, a completely unknown American artist, was awarded for the miraculous sum of 69.3 million dollars (58.2 million euros at the time) at Christie's. Many artists therefore rush into the breach, including in Africa. In October 2021, Nigerian crypto-artist Osinachi sold five NFTs inspired by English painter David Hockney's swimming pools for $214,000 at Christie's. The 30-year-old is convinced, "it's the only way to attribute value to our work by linking it to a certificate of authenticity".
Read also:
Nelson Mandela Arrest Warrant NFT Sold Over $130,000 in South Africa
And sometimes the only way to make yourself known. Nothing is harder, in fact, than to force the doors of the traditional art world, which does not always welcome black artists. "On the platforms, we look less at the skin color and the origin of the artists »remarks the Franco-Senegalese photographer Delphine Diallo.
"NFTs provide autonomy and security"
The young woman based in New York however hesitated when in November 2021 the Quantum platform contacted her to sell in the form of NFT 100 images taken from her photographic series "Divine". "But in an hour and a half, I sold 100 works for 100,000 dollars, it was surreal", she says, still amazed by the performance. Since then, Delphine Diallo has never stopped convincing her African colleagues to jump on the bandwagon. "Why give 50% to a gallery, wait one or two months before getting paid?she asks. NFTs provide autonomy and security. »
Her colleague Linda Dounia Rebeiz, 27, also says that NFTs have changed her life: "When I discovered this technology a year and a half ago, I told myself that it was the best way to launch my career as an artist. » Not only does she now live from her work, but the reputation acquired online has opened the doors of the Cécile Fakhoury gallery, based in Dakar and Abidjan, with which a collaboration has been launched. "I feel like I'm much more respected since I'm an NFT artist"adds Delphine Diallo.
Read also
In Nigeria, artists and entrepreneurs are taking the turn of crypto-art
Not so easy, despite everything, to exist in the digital jungle. "It's not easy to create a community and stay in the game, because things are changing very quickly", recognizes Moroccan creator and artistic director Muhcine Ennou, who lives in Amsterdam. For Linda Dounia Rebeiz, salvation comes through the collective: "We have to work together, pool resources to have more strength and visibility as a group. » The young woman thus created Cyber ​​Baat, a collective of artists of African origin grouped together in an autonomous organization decentralized on the blockchain.
Low quality of internet connections
But there are other more concrete obstacles to overcome, starting with the poor quality of Internet connections, weighed down by frequent power cuts in Africa. NFTs are not without environmental consequences either. The ecological cost of a single Ethereum transaction (the digital currency of reference for these tokens) is thus equivalent to the electricity consumption of a European for four days. To offset the carbon footprint of these energy-intensive tokens, the South African platform The Tree offers artists to collaborate with a Cape Town organization, Greenpop, to plant trees.
Read also
In Ghana, the artistic avant-garde won over by NFT fever
Another pitfall is African government policies on cryptocurrency, including in the countries most versed in digital assets. Despite Nigerians' appetite for digital assets, the country's central bank has been waging war on cryptocurrencies for several months. "It makes it difficult to convert my income into local currency", laments Osinachi. In Tunisia, the purchase of cryptocurrencies is not prohibited. "But we don't officially have the right to hold euros or dollars, the only currencies convertible into crypto", recognizes Kenza Zouari. Despite these challenges and market yo-yos, she is sure: the NFT rush is not about to stop.
NFTs to decolonize artistic heritage
To neutralize the vengeful spirit of their defeated enemies, the Pende, a Bantu people of Central Africa, used to carve figurative wooden figures in their likeness. They had thus shaped a sculpture to enclose the spirit of Maximilien Balot, a Belgian officer killed during a revolt in the Congo in 1931.
The object is now at the Virginia Museum of Fine Arts in Richmond, United States, which, for the time being, has no intention of returning it. In the hope of bending it, a collective of Congolese artists, the Congolese Plantation Workers Art League (CATPC), produced an edition of 300 NFTs of this sculpture in February, much to the chagrin of the American museum, which believes that the action contravenes its open access image policy.
The Nigerian website Looty is part of the same approach by selling NFTs made from 3D scans of objects looted in Africa, present in the collections of major Western museums. Nearly a quarter of the proceeds will be used to finance scholarships for African artists under the age of 25. Next step for Looty: the construction of a virtual museum in the metaverse, an interactive virtual world, to house the repatriated objects.
#platforms #skin #color #African #artists #seduced #NFTs